In 2016 we planned a Carnival cruise with our good friends, Kelly & Brock, over my spring break. We wanted to have sort of a fun baby moon, as I was pregnant with Jack at the time. Literally one week after booking the cruise, the warnings about pregnancy and zika were becoming more and more prevalent. Soooo we decided to cancel and go another time, after Jack was born. We ended up booking this cruise almost a year in advance and it felt like we were waiting forever. We had planned to go to Puerto Rico, St. Thomas etc. But, hurricanes had other plans. We were rerouted to the western Caribbean stops and still had an absolutely amazing time. Here are some photos and iphone pics of the trip!
Before getting on the ship we ran some errands and got some yummy crepes at Cafe Club
First stop: Cayman Islands
Because of the wind we didn't tender boat from the normal location. We tendered from the other side of the island. Lucky for us, their was an amazing private beach to hang at while we waited to go on our excursion. We went to Sting Ray City and it was one of the coolest things I've ever seen. Huge sting rays just swim right up to you and you can feed them. I wish I had photos but it was fun to be in the moment too. DO NOT BUY THIS EXCURSION ON THE CRUISE SHIP. You will pay twice as much.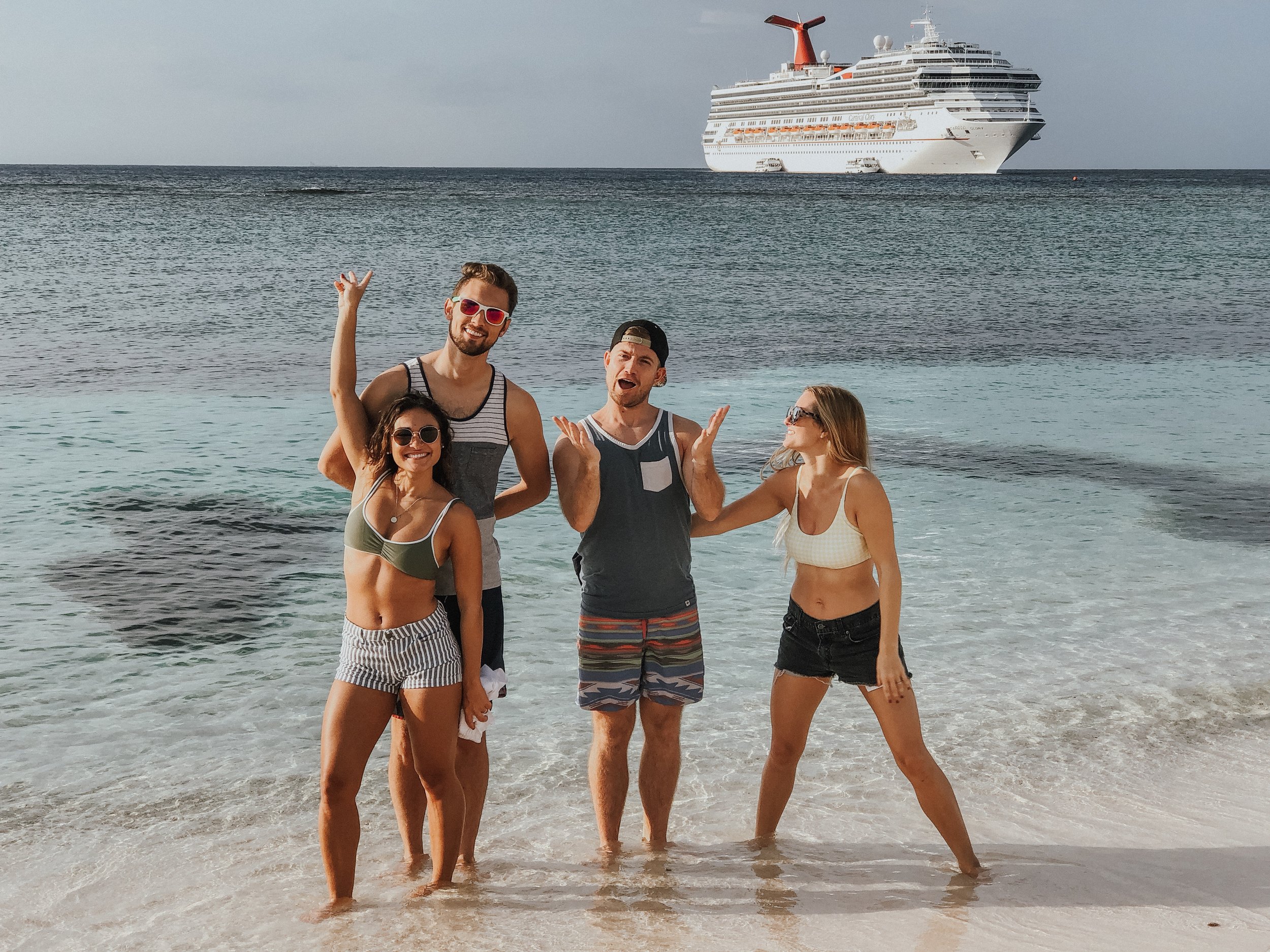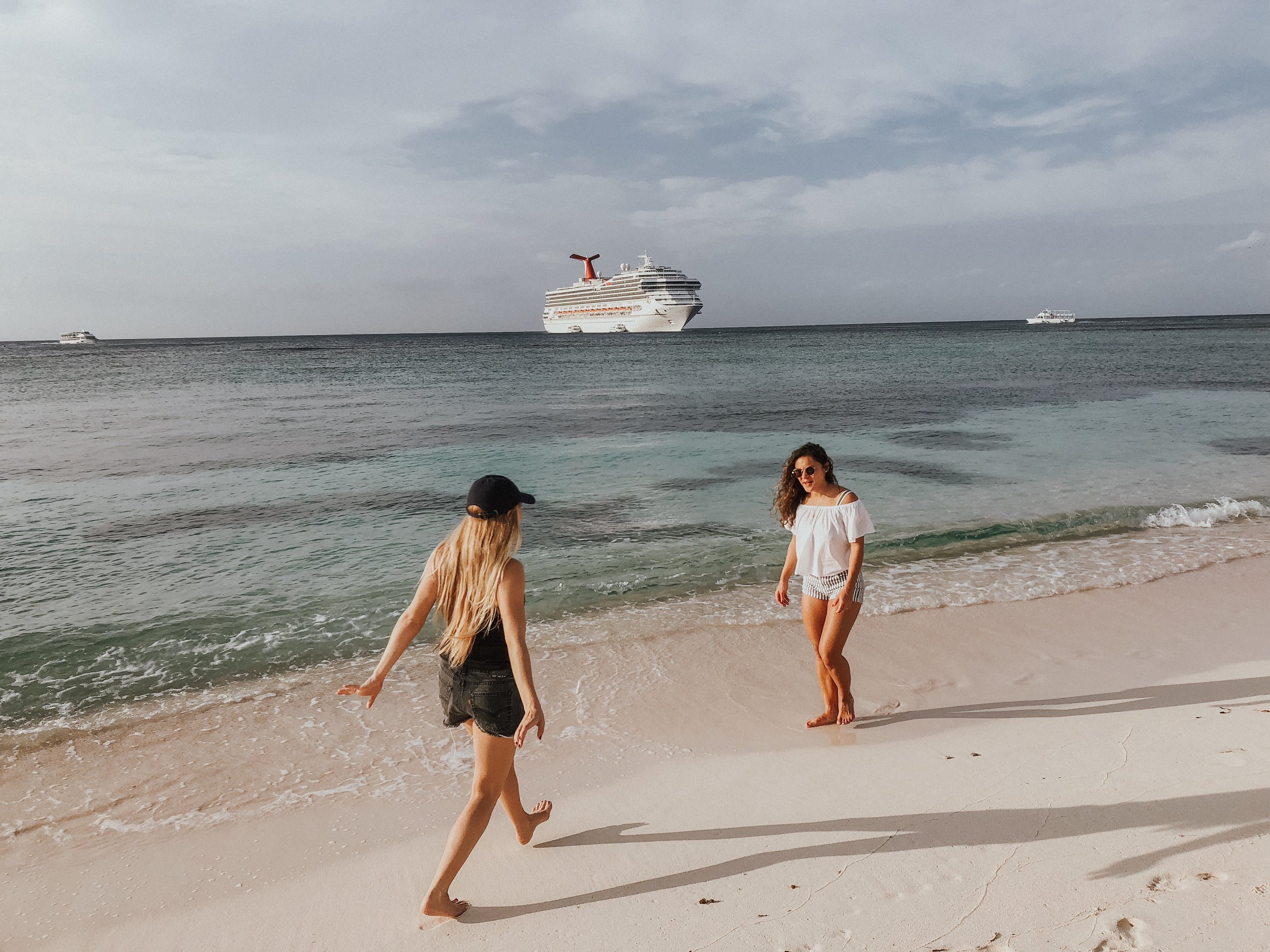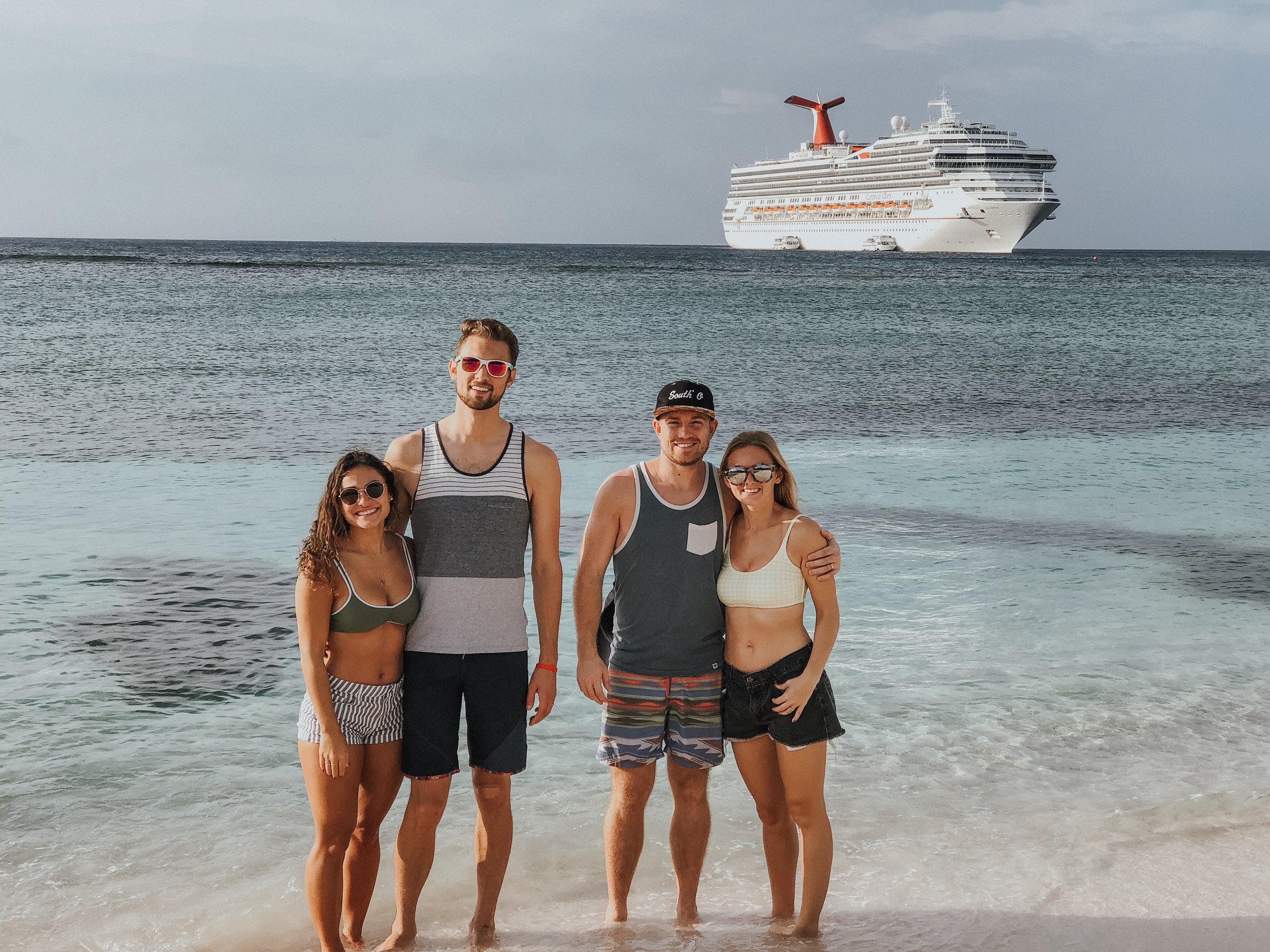 Second stop: Roatan
The ship ports at Mahogany Bay which is owned by Carnival. It's basically like being on the cruise ship, lots of alcohol, over priced souvenirs and sitting around. We decided to get out of the port and do our own thing. Instead of paying $30/person for a taxi we opted for the rental car. It was $40 for the day in cash + gas and they kept an I.D. as collateral. We drove to Half Moon Bay and went snorkeling. It has an amazing dive community I even met someone from SLC, UT. We needed a snack and I needed a smoothie. We grabbed some lounge chairs at Gingers and it was so so good. They had delicious specials and amazing seafood that was caught that morning. You'll have great conversation with one of the cooks, Sexy Marco as well as the owners, Ginger and Mr. Ginger. They are from Houston, Texas and we loved talking to them about the Astros and the World Series.
We really wanted to eat local food. This place had amazing street tacos & traditional Honduran dinner plates.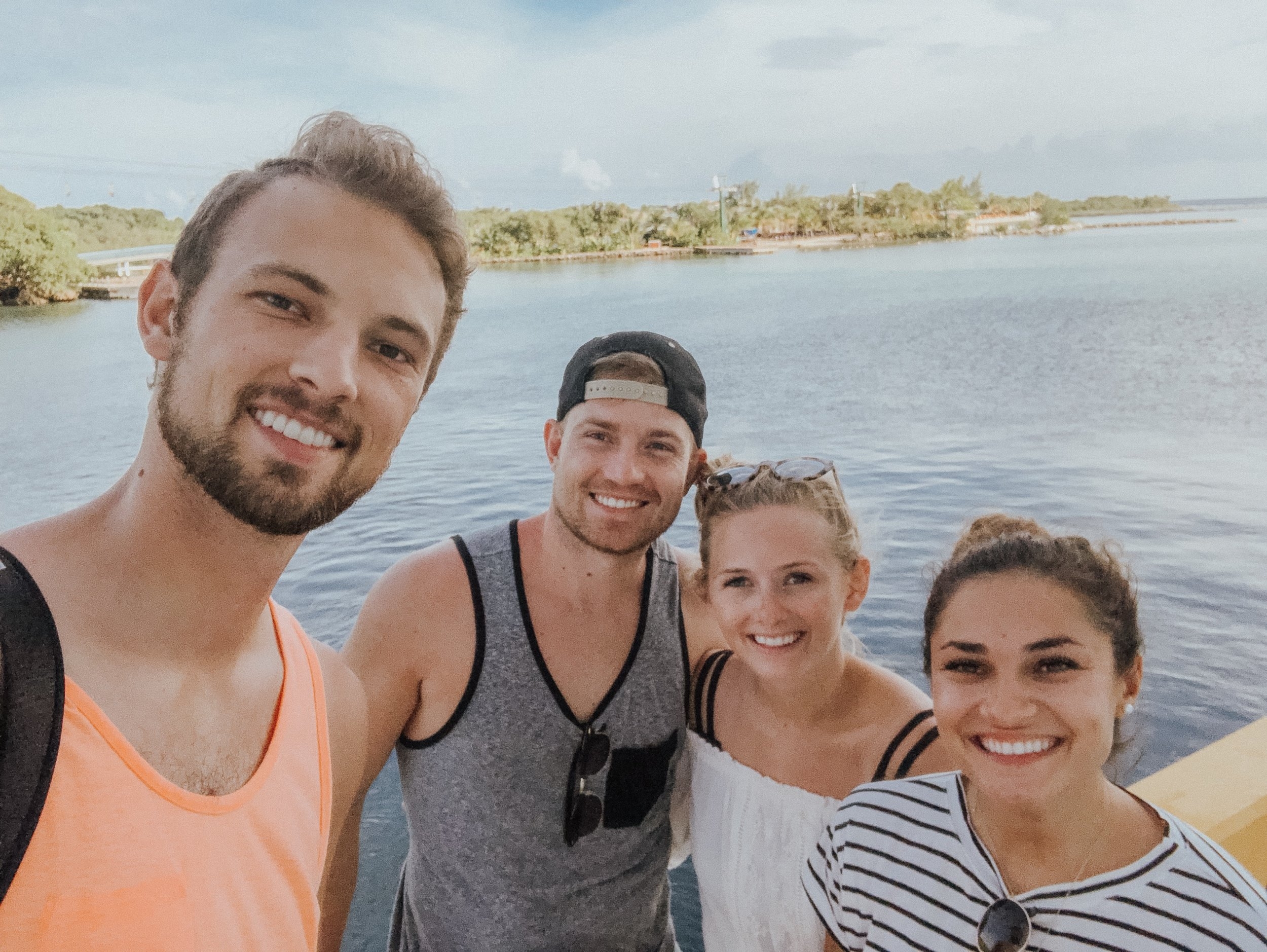 Third Stop: Belize City
We did the Cave Tubing Excursion. Again, DO NOT BUY THIS EXCURSION ON THE SHIP. Some life-time cruisers told us to book through "Butts Up" it was only $35/person. On the ship it was around $90.
Butts Up carries your tubes up for you and provides an AMAZING lunch of homemade Tamales. Definitely something worth doing once. You can rent water shoes there for $3.
Halloween on the ship. A captain and hippy. No couples costume just needed something easy to pack!
Fourth Stop: Cozumel
Instead of doing an excursion we opted for exploring the city on our own. Across the street from the port are tons of rental car options. My husband had been dying to ride scooters the whole trip and again it was $40 for the day + gas.
We drove on the scooter/bike road for about 30 minutes to a bunch of beach spots. The scooter guy told us his favorite beach spot is Palancar Beach It did not disappoint. Beautiful water and good food. The chairs are $5 for the day. We had fun just playing cards, eating ceviche, throwing the football and swimming.
formal night. Literally took this same picture everynight.
Last night on the ship. We were feeling sad, yet a little relieved we didn't have to eat cruise food one more day. Kelly & Brock were literally the best travel companions we could have asked for. Can't wait for our next annual couples trip.
Miami:
We ate at a this yummy little spot for brunch, Boho. It's owned by a Greek family and they serve amazing fresh pressed juices. Looking back I wish I got the Eggs Benedict that Kelly got but all the dishes were amazing. Then we went to a matinee movie, Thor: Ragnorok, and rummaged through an overpriced candy store. Naturally, that night Chris and I went to another movie, American Made, because what better thing to celebrate being away from your kid than going to a movie?!
So after all that here are some basic tips and advice from my first cruise experience.